Rare Hybrid Solar Eclipse Sunday Nov 3, 2013
Begins at Sunrise over the East Coast of North America as a partial eclipse
and peaks in South Africa as a total eclipse
The New moon begins this Sunday November 3rd at 7:50 am EST.
Early risers on the U.S. East Coast can see the partial solar eclipse.  Then, the greatest shadow appears in the waters just off the coast of South Africa.  This is a rare eclipse because it starts out as a partial or annular eclipse and becomes a total eclipse in the waters of the coast of South Africa.  (see the cool animation below)
A RED day is a designation that I have created, that simply describes one day each month, where the energy for major activities is at its lowest.  November 2 and 3 I have labeled as Red days on the Conscious Calendars.
Reverse Karmic Patterns?
Did you know, that eclipses are times that we can almost reverse patterns that we want to?
By acting differently than you are inclined during an eclipse, you can in essence 'reverse' deeply engrained patterns that you have cultivated.
For instance, say you have been wanting to start a meditation or yoga practice because it is good for you.  If you wake up earlier than usual this Sunday, and try to meditate – even if it is just for 5 minutes, or if you do some yoga or go for a gentle walk – even though you REALLY want to sleep in – You will have just set a REALLY positive pattern of discipline, and have just jettisoned your way into a new routine.
It is said in the Buddhist tradition that whatever we do on eclipse days, counts 100,000 fold.
That is why if you choose NOT to do something, even though you may be PULLED to do it, you can help reverse a bad habit and create a positive habit in its place.  For example, if you choose fruit instead of sugar on the eclipse day, even though you might be tempted, then you are in essence saying no to a deep karmic pattern.  This is a BIG deal.
You have the option to meditate, to be kind in the face of irritation, or quit sugar on an Eclipse day.
You are setting a pattern 100,000 fold FOR that new pattern.  See why I go on about making different healthy, decisions that can deepen your discipline on eclipse days? (that is a wink to some of you out there)
Say you have been sleeping in lately, but you rise early on the eclipse day; NOW you are setting a new discipline.  You can even take a nap later in the day, since this is a great day to rest and nourish yourself too.
ALL of us feel pulled on Eclipse days. That is the nature of eclipses – they intensify the intoxicating forces that pull us to do something.  If we can choose to be healthy, calm or kind even when we are being nudged otherwise, then we have set a new pattern.
We get this opportunity every 6 months.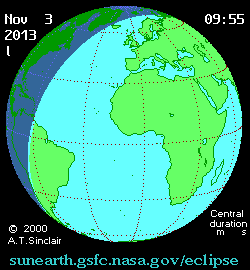 So, you have an opportunity this Sunday Nov. 3 on the Solar eclipse and New moon.
Red days
Red days are great for rest, meditating, and keeping life simple. These are not days to do something big, like buy a house or have a big party.  By knowing about Red days on the Conscious Calendars ahead of time, you can save time and energy, and possibly even prevent an illness, since we are all a little more tired on the New Moon and especially on Solar eclipse days.
Eclipses occur every 6 months – they are an astronomical event.
Hybrid Eclipse Weather.com: http://www.weather.com/news/science/space/hybrid-eclipse-coming-november-20131029
In Vedic astrology, the eclipses are places of disturbance, I call them invisible marks in the sky where the Earth, Sun and Moon will align in a way that the Sun's rays appear to be blocked to the Earth or the Moon.
Mercury will continue to be appearing to Retrograde in Libra.
The eclipse is occurring in the constellation of Libra (not scorpio) according the sidereal map.  This is the map that astronomers use, and the same map that Vedic astrologers use.
Saturn, Mercury and the Sun in Libra
Saturn, Mercury and the Sun are all in Libra right now – from the point of view of the Earth. So, the solar eclipse appears to take place in the constellation of Libra.  If you were born with any planets in Libra, then you might be feeling this set of eclipses in your life more.
This is why not everyone feels major changes every six months in their life.  Vedic astrology traces defining moments in life to when the eclipse patterns – for 18 months at a time – create shift and change "for healing" in our lives.  I put "for healing" with rabbit ears, because change does not feel like healing at the time.  If we know what forces are tugging at our consciousness, then we can have greater perspective and not feel that we are reacting to our environment as much.  This is often all it takes, to take a deep breath and say "oh, it is going to be a wild ride for these two weeks or six months" and then you can go about making healthier choices in the face of change.
Perspective is one of the gifts of Vedic astrology.
NASA page about Nov 3, 2013 solar eclipse: http://eclipse.gsfc.nasa.gov/OH/OH2013.html#SE2013Nov03H